Fleckvieh Female Sale
November 21, 2020
Sale Time 1:00 PM
Decorah Sales Commision, Decorah, Iowa
Go to our sale page for more information.
---
Welcome to Beef Fleckvieh
Welcome to Stanley Martins Fleckvieh Farms.  Located one mile west of Postville, Iowa on Highway 18. 
 
We have been in the seed stock business since 1960.  Our Fleckvieh herd consists of 150 Fleckvieh cows and 75 Black Fleckvieh cows.  We have placed and emphasis on raising Fleckvieh of the highest quality.  These Fleckvieh are farmer and rancher-friendly.  Most of our Fleckvieh are non-diluter.

The Fleckvieh cattle we have today are the result of our endless effort to bring you the very best Fleckvieh cow families in the world.  Live Fleckvieh and frozen Fleckvieh genetics have come from around the globe; most from Canada, a few from the States, in addition to the use of Fleckvieh semen direct from Germany. 

Buying replacement bulls and females can be very expensive.  Four of our present Fleckvieh walking herd bulls have a combined age of 35 years.  As a result, you will save lots by having to replace your Fleckviehs less often.

Fleckviehs are what I do.  Our Fleckviehs have been fully researched and are proven and reliable under normal farming and ranching conditions.  I am 70 years old and will not tolerate calving or disposition issues in our Fleckviehs.  Our Fleckvieh have produced many Rate of Gain and Carcass champsions.  A steer sired by one of our Fleckvieh bulls recently placed 8th out of over 80 head in the Iowa Cattlemen's Carcass Challenge. 

Our Fleckvieh will make your beef operation more profitable!  Please call or e-mail with any questions.
---
---
Producing Non-Diluter Fleckvieh Bulls For Today's Prudent Beef Producers.
---
We now have sexed embryos available!
150 Black and black baldy Fleckvieh influenced bred heifers available November 1.
Please click on images to see a larger view.
Golden Dawn YUMA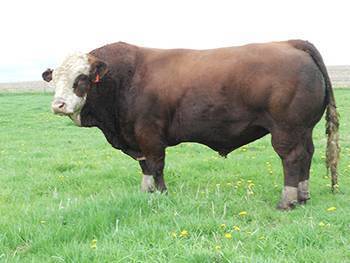 Yuma is a bull we raised and is sired by Talladega and out of an exceptional daughter of Whistler. His first calves were born in the fall of 2014 and they are impressive. Yuma consistantly sires calving ease, muscle and color. Tested non diluter. Great feet and large testicals.
We have several outstanding Yuma sired fall born bull calves, in addition to 2 spectacular brothers to Yuma himself. Don't wait until it's too late!
---
Crown Royal
Crown Royal a dark red direct son of Canadian Neff out of the super donor Brocks Meesha. Crown Royal is a living testament of proven German genetics. Crown Royal's sire Canadian Neff was born in 1971 and his semen is extremely rare.
---
Golden Dawn Bonus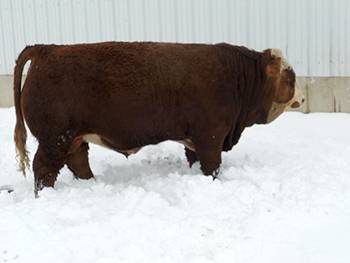 Sire: Solway Adonis.
Dam: Kerstin
Bonus' sire Solway Adonis has proven to be one of the best sires ever used in North America. Born in 1970, his semen is extremely rare. And you will pay dearly if you can even find it.
Bonus mother is the highly proven Kirsten cow who is sired by Hafke and out of the great Lilli-Marlen cow. Which makes Bonus a strait German pedigree. We beleive Bonus is more valuable than Solway Adonis as Bonus is straight haired and solid colored, with lots and lots of pigment. And tested non-diluter. Bonus two flushmate sisters are absolutely stunning.