Recent News
Recent Article from The Iowa Farmer Today
How It Works
The certified Angus beef Program identifies cattle that have a hide that is 51% or more black. Nothing at all certifies that they contain any angus when the cattle go to the coolor. The certified angus beef program claims those with 51% black hides picks out those that grade in the top 50% of choice grade and proclaims these carcasses to be CAB. Webster's dictionary defines certify as follows; attest to the truth or validity.
The Blue Spruce Aquistion:
Last summer while in Alberta we wanted to check out "South Seven Top Notch" as he created quite the impact for Rob Stuart. Rob's a great cowboy and super gentleman. Blue Spruce (Harold Albrecht) is the co-owner of Top Notch. In the late nineties Harold purchased some of the best Fleckvieh cows money could buy. Including several of the top lots in the MFL and Greg Bain dispersals. When BSE hit Harold ran his cows as commercials and took a job in town. So Harold's cattle have been selected just as they should be; sound feet and legs, gentle dispositions and raising a big calf every year or they went on the trailer.

We would like to take this opportunity to thank Harold for allowing us to select 12 cows and six calves. Some are papered and most are either sired by or bred to Top Notch.
Top Notch semen in the 2012 Fleckvieh Equation sale sold for $300/unit. Here's Rob Stuart's Footnote:
South Seven Top Notch can be called Mr. Consistant. He passes along excellent color, hair coat, depth of body and length of spine to all of his progeny. We have sold approximately 25 bulls in the past three years that have averaged $6,200 dollars. We have only released three of his females from our herd to Maxwells, Beechiner Bros and Kulyks. He is co-owned with Blue Spruce breeding 40-50 cows per year. He has been used on both purebred and commercial herds with excellent results. There is no guess work with Top Notch.

These cattle arrived Feb 1 along with a nice Appollo daughter from Rob Stuart and Prospera an awesome daughter of Jahari going back to SRN Miss Universe IC. Give us a call we'd love to show them to you!
| | | |
| --- | --- | --- |
| Top Notch | Top Notch Daughter | Top Notch Son |
Yuma
This is Yuma; a son of Talladega out of a whistler cow. Great feet, small youthful head and huge testicles. We will be flushing several cows to Yuma in the near future. As always, we welcome your inquiries.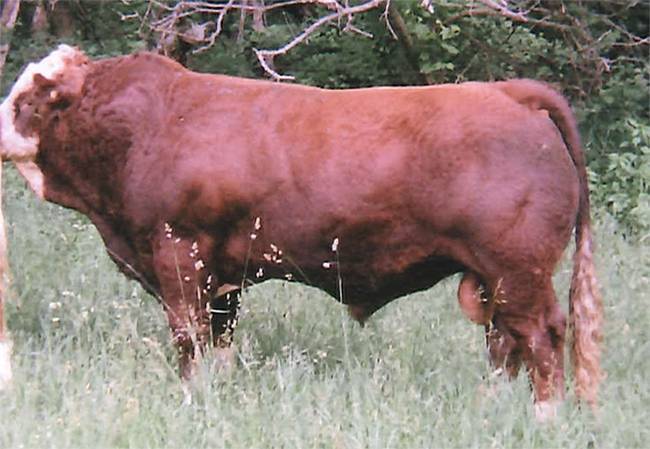 ______________________________________________________________________________________________________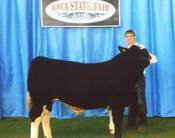 • Congratulations to the Marc Johnson family on their Grand Champion Merit of Beef Steer at the 2012 Iowa State Fair. The Johnson family has won this for I beleive the third time in the last few years. It goes by retail cuts per day or age and must grade choice. All of these calves have been sired by fleckvieh bulls purchased here. All you have to do is call to reserve your herdbull needs!
______________________________________________________________________________________________________
Hi! I delivered the last of our bulls a while back to one of our best long time bull customers. Could not believe the fancy set of Fleckvieh x Angus replacement heifers he had; beautiful black and black white face females. It took some real "arm-twisting" but I was able to get them bought. They will be included in the group of 100 bred heifers that will be available this fall. They are mated to our calving ease straight Angus bulls. They will be sold on a first come – first serve basis. Call now to reserve yours. With the U.S. cowherd at their lowest numbers since 1958, the drought and further liquidation in the western states this summer - the future of the beef business has never looked more profitable!

It's not too early to be thinking about next year's bull needs. Five bulls have already been reserved from this year's calf crop.

Hope to see you around!
Stanley